Support and advice in oncological therapy

Rocky and the mast cell tumor in the nasopharynx
Breathing difficulties, snorkeling and snoring breathing noises, as well as constant licking were signs that something was wrong with 12-year-old Jack Russel terrier Rocky. Auscultatory wheezing, especially in the upper airways, was clearly noticeable on clinical examination. After unsuccessful treatment of the infection, unremarkable blood tests and smears followed. The diagnostics were then expanded.
A computed tomography of the airways and a cytological examination showed the cause of the dyspnea: Diagnosis: mast cell tumor in the nasopharyngeal meatus.
Mast cell tumors are among the most common skin neoplasms in dogs and are generally classified as malignant. Changes in the internal organs or a generalized occurrence are also possible, but much less frequently. There are certain breed predispositions such as Boxers, Retrievers or Mountain Dogs, but they can also exist in any other dog, as in our case with Rocky, a terrier. There is no gender or age predisposition, they can always arise. They usually occur as a single increase in size, but can also occur in multiples.
Mast cells are found throughout the body and are physiologically functional in inflammatory, immune, or allergic responses. Tumors of these cells are true artists in their appearance. Therefore the guiding principle applies: Any increase in size is a mast cell tumor until proven otherwise. The appearance ranges from soft, small and inconspicuous to rough, knotty, infiltrative and flat and is usually accompanied by a so-called pseudo-capsule. The clinical symptoms are as varied as the tumors. Mast cell tumors can occur without any reaction, but they can also lead to itching, inflammation with wound healing disorders and bleeding. Varying size changes in the course of the disease are also evident, as are systemic manifestations in the final stage, eg ulcers in the gastrointestinal area.
In general, these neoplasms can occur anywhere in the body, typical localizations are above all the limbs (especially hind limbs), trunk, head and the anogenital region. However, there are also cases in which the mucous membranes are more affected, for example: conjunctiva, oral mucosa or vaginal mucosa. Rocky's nasopharyngeal meatus was involved.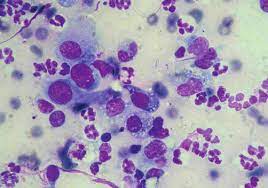 (Graphic: Thieme Connect)
The diagnosis can be made by a cytological examination using fine-needle aspiration. A more precise differentiation is often only possible with a biopsy.
Tumors of this type can be divided into several grades. An older classification is that according to Patniak et al.1984, according to grades I-III. Grade I means lower malignancy, i.e. less invasive growth and metastasis rates. There are chances of recovery at this level. Grade III, on the other hand, is absolutely malignant, marked by aggressive growth and rapid metastases. Grade II is characterized by its unpredictability. Anything can happen at this level.
A more recent classification since 2011 is that of low grade and high grade neoplasia according to Kiupel et al. Low grade mast cell tumors show significantly longer periods of time before they metastasize or recur and thus have a much longer survival time than high grade mast cell tumors, which usually grow aggressively infiltratively and quickly metastasize.
Veterinary diagnostic laboratories, such as IDEXX, often combine the grades in their patho-histological reports. An example would be: "cutaneous mast cell tumor grade II (according to Patniak), low grade malignancy (Kiupel)".
Additional examinations such as immunohistological examinations for better assessment and therapy are possible and often advisable. Up to 50% of all mast cell tumors in dogs show a mutation in a mast cell membrane receptor. The most common of the mutations is called c-KIT. It leads to a permanent activation of the membrane receptor and thus to an autonomous stimulation for growth.
Due to the difficult localization, only fine needle aspiration could be performed on Rocky. This clearly revealed a mast cell tumor, but unfortunately no more precise differentiation was possible. Unfortunately, the prognosis for the Rocky case is very uncertain to unfavorable.
---
Cytological examination / discussion of findings for histopathology and cytology
CT radiology findings
Blood count – before therapy
differential blood count and blood chemical examination
Blood count – course
Differential blood count in the course of therapy as well as liver values
​​and blood chemistry examination before the first dose reduction
---
The treatment of choice is complete surgical excision. This was not possible with Rocky. After considering other therapeutic options, the owners chose the path of a combination therapy of oral chemotherapy with the drug Palladia and prednisolone. As a tyrosine kinase inhibitor, Palladia is a chemotherapeutic agent that inhibits the membrane receptor of mast cells with the c-KIT mutation. Prednisolone as a glucocorticoid is a strong anti-inflammatory and has a decongestant effect.
The starting dosage of Palladia is approximately 3.25 mg/kg body weight orally every other day, regardless of whether with or without food. It should be strictly observed that the tablets cannot be divided and must always be administered in full. Rocky therefore received 30 mg Palladia every other day. He received prednisolone daily in a low anti-inflammatory dose of 0.25 mg/kg body weight BID.
From the start of therapy, the symptoms decreased significantly. The breathing noises disappeared, he no longer had any breathing difficulties and gained vitality and zest for life. Before using the medication, we checked Rocky's blood values ​​using a differential blood count and a blood chemistry test. Initially, there were close laboratory controls and regular telephone calls (see also the table in the appendix). Because of the good clinical response, prednisolone was reduced to 0.125 mg/kg BID after 14 days to minimize corticoid side effects. Since the cortisone administration, Rocky has developed cravings and severe panting attacks. These decreased with the cortisone reduction.
Hepatotoxicity developed, which significantly increased Rocky's liver values. Clinically, the hepatotoxicity was primarily visible through yellow discoloration of the faeces. Thus, it was necessary to adjust and reduce the dose. Dose reductions should be made in 0.5 mg/kg bw increments under clinical and laboratory control. Rocky was now on 20 mg Palladia every other day. This significantly improved the liver values. The table below provides a summary overview of the time frame within which control investigations and consultations took place.
Five and a half months after the start of treatment, Rocky's condition suddenly deteriorated. The breathing difficulties came back, he could no longer tolerate Palladia despite the interruption and further reduction to 10 mg and prednisolone only had a limited effect. Almost 6 months after the start of therapy, Rocky had to be put down to spare him further suffering. That wasn't easy, because Rocky had become very dear to us during this intense time. He was always a cheerful dog who knew how to enjoy life. The owners are very grateful for the time gain that we were able to achieve with this therapy option.
In summary, we can conclude that Rocky must have been a mast cell tumor with a high degree of malignancy. This was anatomically in a very unfavorable position and unfortunately inoperable, but the medical support made it possible to prolong life with a good quality of life.
Nicole Rofael
Veterinarian
VETspert®
VETspert® advises in the oncology consultation, evaluates blood, urine, faeces, imaging, histological/cytological and other findings, drafts treatment plans and possible drugs for chemotherapy and palliative care. By working together with a pharmacy, it is possible to have individual chemotherapeutic agents manufactured and adapted and then to deliver them ready-to-use to the appropriate practice or clinic.
The support primarily concerns the treating veterinarian. In the future, with the consent of the veterinarian, a telephone or video consultation directly with the owner of the patient would also be possible. The veterinarian then receives feedback, possibly with recommendations for medication adjustments, etc., which he can then make a final decision on. Direct support as a combination appointment: patient – ​​veterinarian – VETspert® (video chat) is also possible.
Any decision and treatment is the responsibility of the supervising veterinarian. Our concern is the support, relief and accompaniment of the veterinarian.
ATTACHMENT:
Table summarizing monitoring during therapy:
Time

Type

Meeting with owner

Weight

blood count

blood chemistry

baselines

visit

x

x

x

x

week 1

Phone call /

video chat

x

week 2

visit

x

x

x

x

week 3

Phone call / video chat

x

week 4

visit

x

x

x

x

Every 4 weeks

visit

x

x

x

x

As required, approx. 10-14 daily rhythm

Phone call / video chat

x
Sources:
VETspert®
veterinary practice at Rankbach
www.tierklinik-hofheim.de
IDEXX
Palladia package insert
Thieme-connect

Nicole Rofael
veterinarian
---
Author of the
original article in German
and contact person