Holes? In the spine? Like in cheese? Is that possible?
A case study as a medical publication of specialist article
Translation of the original article
about Loui
a Shepherd Mix of 1 year and 4 months
Diagnosis: Discospondylitis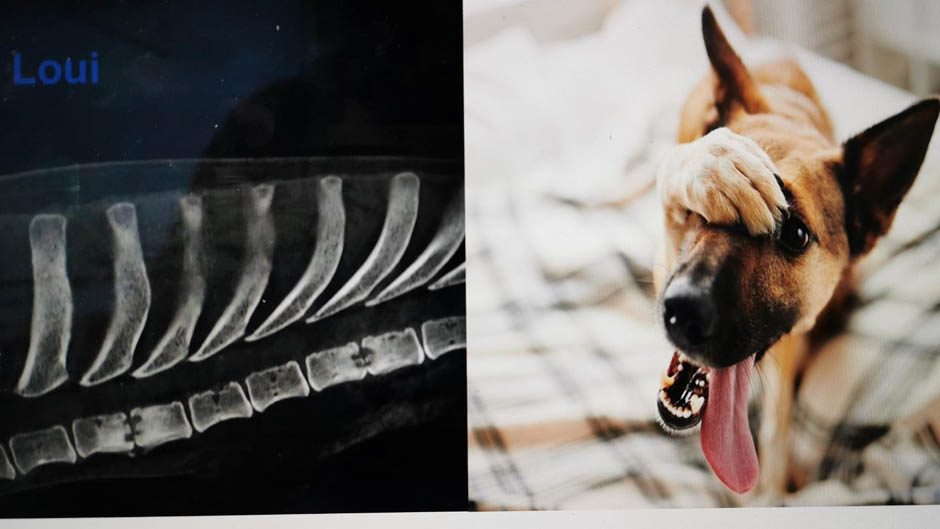 Long before the first birthday … Pain, recurrent lameness and a path of suffering begins.
A cheerful shepherd mix male named Loui suddenly showed signs of lameness quite early without any special incidents, but also other symptoms that indicated pain. Whimpering, whining and pain sounds were heard more and more frequently. There was also pain in the spine, which was accompanied, among other things, by stiff running, reluctance to move, smacking when touching the spine and increased need for sleep.
Subsequent blood tests revealed slightly increased inflammation values in the meantime, which returned to normal (especially C-reactive protein), completely negative tick and travel profile (yes, he comes from abroad), as well as absolutely inconspicuous differential blood count and blood chemistry.
This last for a while, then Loui was literally "turned upside down". A large examination under anesthesia began:
Physiological blood counts and blood chemical parameters, as well as normotrophic hematogenous crP, negative rheumatoid factors, Coombs and ANA tests as well as blood IgA values led to a cerebrospinal fluid puncture. This also resulted in standard values with regard to immunoglobulin A – and the protein content. Equally negative results were obtained from the tests for infectious agents such as TBE, distemper, Anaplasma phago., Neospora caninum and Toxoplasma gondii, as well as a negative bacterial examination. The only conspicuous and pathognomonic was the crP value in the cerebrospinal fluid. This was 6 times higher. In summary, the numerous studies of blood and cerebrospinal fluid alone showed a 6-fold increase in the c-reactive protein in the cerebrospinal fluid.
Imaging followed in parallel. A few X-rays and CT scans later, the diagnosis was made: discospondylitis
By definition, discospondylitis is an infectious inflammatory change in the intervertebral space involving the joint surfaces of neighboring vertebrae. Causes of such inflammation are mainly hematogenous bacterial infections, occasionally fungal infections, migratory infected foreign bodies such as grannes or iatrogenic infections as a result of spinal surgery. To provide evidence of bacteria is often difficult and rarely succeeds, as can also be seen in our case. The most common bacteria are Staphylococcus intermedius or aureus, streptococci, E.coli, nocardia or Brucella canis. Possible fungi are mainly aspergillosis pathogens. According to literature, young to middle-aged males of large dog breeds predominate, which applies to our patients. Furthermore, dogs with special previous infections, e.B. on the heart valves, teeth or skin, are also prone to discospondylitis.
Symptoms vary depending on the course. Subclinically with little reluctance to move to peracute with the highest level of pain, everything is included. Fever, inappetence, cachexia and neurological deficits are possible. Loui was presented with changeable lameness, significant back pain and weight loss.
Differential diagnoses to our findings are spondylosis deformans, which is usually not accompanied by lysis of the vertebral endplates or various neoplasms, such as multiple myeloma or lymphoma, as well as metastases of aggressive tumors such as prostate cancer. All this could be ruled out for our patient.
What to do to help our Loui? Several weeks of administration of high-dose antibiotics are required. Possible antibiotics are cephalosporins, clindamycin, doxycycline or enrofloxacin. A minimum dose of 6-8 weeks is recommended. The administration of painkillers varies from the clinical symptoms of nonsteroidal anti-inflammatory drugs such as carprofen to strong morphinder derivatives. Problematic in the implementation for the owners is a restraint or immobilization of the dogs, as they are often still young and impetuous. Regular follow-ups via X-ray or CT examinations are advisable in order to be able to better assess the individual course and to control the response of the therapy. If the therapy fails, a change of medication or surgical measures should be considered. In our case, we were lucky and our patient immediately responded to the therapy initiated with carprofen and cephalexin.
All in all, the overall prognosis is to be regarded as rather cautious, depending on the course of the disease.
Loui is currently doing very well and he is catching up on all the lost experiences in everyday life. The ball is his best friend and, in addition to his dog buddies, it is now impossible to imagine life without it.
A happy ending for the moment that hopefully lasts.
author:
of the original article in German
Nicole Rofael
veterinarian
VETspert®
December 2021
references:
VETspert®
Veterinary practice "Tierarztpraxis am Rankbach"
Internship at the Dog Clinic (Niemand, Suter, Kohn), 10th edition
Picture Dog Adobe Stock

Nicole Rofael
veterinarian
---
Author of the
original article in German
and contact person